RELEASEPARTY | do. 09.02.12 | 20.00 uhr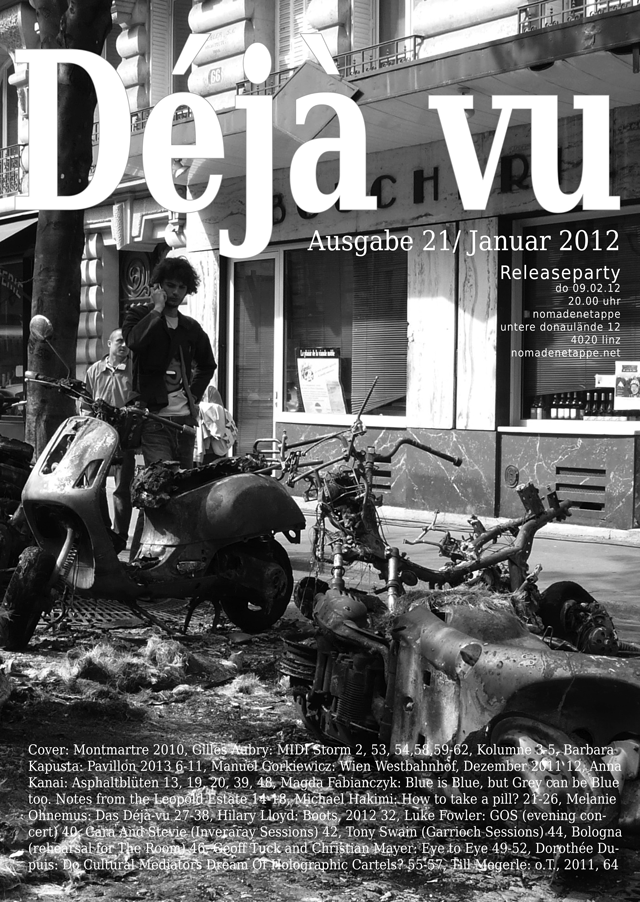 nomadenetappe
untere donaulände 12
4020 linz
Déjà Vu is issue 21 of a magazine founded in 2002 in Vienna by a group of austrian, german and swiss artists:
CHRISTIAN EGGER, MANUEL GORKIEWICZ, CHRISTIAN MAYER, YVES METTLER, MAGDA TOTHOVA, RUTH WEISMANN and ALEXANDER WOLFF.
Each issue present around fifteen contributions, in both texts and images. Artists, writers, scientists and specialists in all kind of fields are invited to contribute and intervene in a sober and efficient layout already acknowledged by the London Design Museum in its exhibition Best European Design 2005.
The focus of the editorial activity is organizing and assembling the contributions, including works and found footage by the editors, in order to create for each issue a strong and original unity, amplified by the use of a different font for each issue. Each issue printed in black and white in an edition of 300 copies, is completed with a color centerfold poster by an internationally recognized artist (Elke Krystufek, Daniel Pflumm, Ayse Erkmen, Amelie von Wulffen, Cameron Jamie, Renee Green, ...).
Cover: Montmartre 2010, Gilles Aubry: MIDI Storm 2,
53, 54,58,59-62, Kolumne 3-5, Barbara Kapusta: Pavillon
2013 6-11, Manuel Gorkiewicz: Wien Westbahnhof,
Dezember 2011 12, Anna Kanai: Asphaltblüten13, 19,
20, 39, 48,Magda Fabianczyk: Blue is Blue, but Grey can
be Blue too. Notes from the Leopold Estate 14-18, Michael
Hakimi: How to take a pill? 21-26,Melanie Ohnemus: Das
Déjà-vu 27-38, Hilary Lloyd: Boots, 2012 32, Luke Fowler:
GOS (evening concert) 40, Cara And Stevie (Inveraray
Sessions) 42, Tony Swain (Garrioch Sessions) 44, Bologna
(rehearsal for The Room) 46, Geoff Tuck and Christian
Mayer: Eye to Eye 49-52, Dorothée Dupuis: Do Cultural
Mediators Dream Of Holographic Cartels? 55-57, Till
Megerle: o.T., 2011, 64